This classroom activity starter sets the stage for an activity allowing students to design birdfeeders and test their designs to see what meets the needs of local birds.
This Earth Rangers Classroom Activity Starter will get you and your class started on your next activity. Our "build-your-class-activity" tool will give you ideas — you take it from there!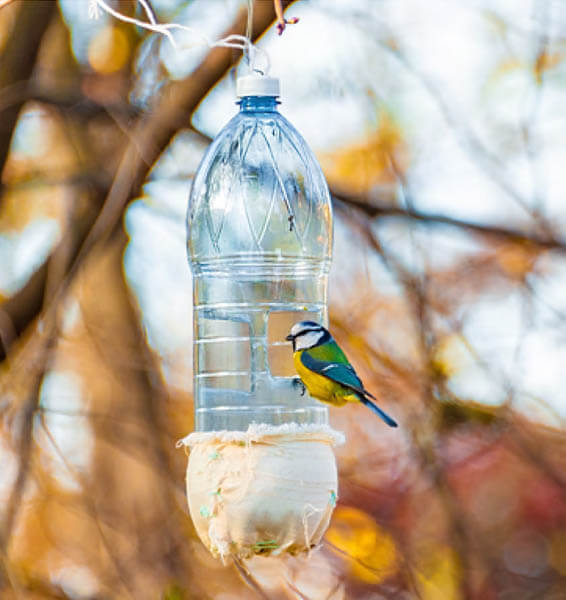 Grade level: 4-6
Learning Objective:
– Design a birdfeeder that meets the needs of local birds
In this activity, students will:
– Observe birds around the school
– Build a bird feeder
– Explain their design choices
– Test their birdfeeder
– Consider what worked and what didn't
Set it up
1: PICK/CREATE AN INVESTIGATION QUESTION
What kind of design will attract more birds? Why?
What kind of design will last the longest? Why?
What kind of design is best for our climate? Why?
How can you improve on a typical birdfeeder?
2: OBSERVATION TIME
Give students time to observe birds around the school and think about the needs of the birds
Birds Canada's Photo Identification Guide can help you identify the common birds in your region at any time of the year
3: BUILD BIRDFEEDERS
Give students the opportunity to build their birdhouses and to explain their choices of:
4: DATA COLLECTION
Select a means for the students to collect data about their birdfeeders to determine what worked and what didn't, for example through:
Data-collection sheets
Observation journals
Photos or videos
5: SHARING RESULTS
Students share their results with each other and discuss what worked and what didn't. They then brainstorm and suggest ways to improve their birdfeeders.
Start it up
This is a chance for students to lead an investigation based on their predictions. Help students set up their experiments so they can make observations, for example, by putting pots with the same seed in different locations.
1: PICK/CREATE AN INVESTIGATION QUESTION:
Do you think larger seeds take longer to sprout than smaller seeds?
Do you think bigger seeds grow into taller plants?
Does each pot need the same amount of soil, light, and water?
Other (e.g. student-created question):
2: DATA COLLECTION
Decide on a timeframe for your observation and a means of observation such as:
Data-collection sheets
Observation journals
Drawings
3: SHARING RESULTS
After analyzing the results, create a way for the students to share their results. Some possibilities include:
Sharing circles in small groups
Science Posters
Sharing with another class/buddies in the school
Keep it up
9: ADD COMMUNITY
Invite parents/guardians to come and see the bird feeders on display.
Invite an Elder to share stories and traditional knowledge about birds.
Share about the birdfeeders with the larger school community
Consider participating in Project Feederwatch, an initiative to count birds across the country
10: ADD EXCITEMENT
11: ADD AN EARTH RANGERS MISSION FOR HOME
References