This Earth Rangers Project Starter will get you and your class started on your next project. Our "build-your-class-project" tool will give you ideas — you take it from there! No matter where you are in Canada, we hope this sparks the creativity you have as an elementary school teacher and inspires you to engage your students in environmental learning.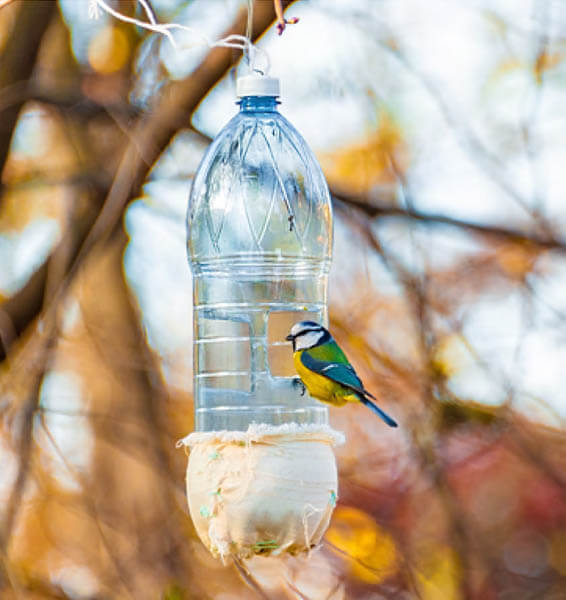 Earth Rangers Connections: Students will observe the biodiversity of birds and the plants that make up a habitat in their own schoolyard. This project might start a life-long interest in birds and encourage children and their families to adopt sustainable practices like nature-scaping, reusing materials, and educating others about how to live in harmony with nature.

Curriculum Connections: Local habitats and habitat loss, needs of living things, behavioural patterns of animals, interconnectivity of living and non-living things, investigating scientific questions, how science helps respond to environmental needs.
Start it up
1: Pick Birdhouse/Birdfeeder Materials
2: Pick a Food Source
Birdseed (Check for allergens)
3: Pick a Location
Front or back yard of school
Other:
4: Pick Learning Outcome(s) for Assessment
Students are able to describe the needs of living things in the schoolyard, with a focus on the daily needs of birds.
Students are able to list problems related to the needs of living things in the schoolyard (e.g. inappropriate shelter, inadequate food sources, predators).
Students are able to collect data to determine which birdhouse design attracts more birds.
Students are able to list the necessary criteria for building useful birdhouses.
Students are able to record observations according to a schedule.
Students are able to explain their designs and receive feedback from peers before testing them.
Students are able to assess and update their designs after testing them.
Students are able to compare and contrast how designs meet a need after observing bird interactions over time (e.g. number of visits each design had, amount of time spent at each structure).
Adapted from Easter (2019) and Kracl & Harshbarger (2017).
Set it up
Adapted from Kracl, C., & Harshbarger, D. (2017) and McLennan (2018).
Inspired by the "Beautiful Tree Project" from kindergarten teacher Deanna Pecaski McLennan in Ontario, Canada, this is a chance for students to explore measurement in nature. Give students time to observe, sketch, and wonder about the tree. Give them different tools to measure the tree trunk. Make sure there is time to try different approaches.
5: PICK A QUESTION(S)
How tall and wide do you think the tree is?
How many limbs do you estimate are on the tree?
How many leaves should you include in a drawing of a tree branch?
Do you think a drawing helps people appreciate how large and beautiful a tree is?
Why do you think you need to start at the very end of the [insert measurement tool here] rather than the middle of it?
How tightly do you need to wrap the measurement tool around the tree trunk?
What will you do if the measurement tool is not long enough to wrap around the tree trunk?
What was the most important tool you used? Why?
Why don't all the numbers match when you measure the same tree (e.g. the number of links vs numbers marked on a measuring tape vs standard measuring tape)?
How could you measure to see if this tree is bigger (and older) than another tree of the same kind?
Why do you think some trees grow bigger than other trees?
6: PICK AN ASSESSMENT TOOL
Use one of our handy Early Elementary Science Skills worksheets or create one of your own!
Sketches and drawings
Hand-drawn maps showing tree locations
Checklists to compare tree sizes (e.g. bigger or smaller than the first tree measured)
Keep it up
7: Add Community
Invite parents/guardians to come and see the bird feeders on display.
Invite parents/guardians to send clean materials from home.
Invite parents/guardians to help (e.g. helper stations for certain tools or materials, as needed).
Invite an Elder to share stories and traditional knowledge about birds.
Set up a buddy program with other classes/schools.
References
Council of Ministers of Education Canada. (1997). Common Framework of Science Learning Outcomes K to 12: Pan-Canadian Protocol for Collaboration on School Curriculum.
https://science.cmec.ca/framework/
Earth Rangers. (2020). Eco-Activity: For the Birds!
https://www.earthrangers.com/my-missions/check-out-this-mission-its-for-the-birds/
Earth Rangers. (2020). Eco-activity: Pinecone bird feeders.
https://www.earthrangers.com/eco-activities/eco-activity-85-pinecone-bird-feeders/
Earth Rangers. (2020). It's for the Birds!
https://www.earthrangers.com/my-missions/check-out-this-mission-its-for-the-birds/
Earth Rangers. (2020). Restoring Toronto's Meadow Habitats
http://www.earthrangers.org/restoring-torontos-meadow-habitats/
Earth Rangers. (2013). Meet Vanessa – Making a Difference, One Animal at a Time
http://www.earthrangers.org/meet-vanessa-making-difference-one-animal-time/
Earth Rangers. (2015). Saving Songbirds.
http://www.earthrangers.org/saving-songbirds/
Earth Rangers. (2021). Eco-activity: Make a pumpkin bird feeder!
https://www.earthrangers.com/eco-activities/eco-activity-178-make-a-pumpkin-bird-feeder/
Easter, J., Hollister, E., and Wilcox, J. (2019). Where Have the Birds Gone? Engineering solutions to authentic problems in the elementary science classroom. Science and Children. 59(4), 62-69. 
Fisher, S. (2022, February 18). 28 Free DIY Birdhouse Plans You Can Build Today. The Spruce.
https://www.thespruce.com/free-birdhouse-plans-1357100
Kracl, C., & Harshbarger, D. (2017). Methods & Strategies: Ask the Right Question. Science and Children. 54(9), 78-82.
Mayntz, M. (2019, February 5). Tips for Birdhouse Design and Building. The Spruce. https://www.thespruce.com/before-you-build-a-birdhouse-386647 
Smithsonian's Natural Zoo and Conservation Biology Institute. Hummingbird Nectar Recipe.
University of Colorado Boulder. (2022, March 8). Build a Birdhouse. Teach Engineering: STEM Curriculum for K-12.
https://www.teachengineering.org/activities/view/wpi_birdhouse_act_joy
Wentzell, B. (2021, June 25). Nova Scotia school fosters learning and reconciliation with forest path. CBC News.
https://www.cbc.ca/news/canada/nova-scotia/albert-bridge-riverside-school-mi-kmaw-knowledge-path-1.6078877