This Earth Rangers Project Starter will get you and your class started on your next project. Our "build-your-class-project" tool will give you ideas — you take it from there! No matter where you are in Canada, we hope this sparks the creativity you have as an elementary school teacher and inspires you to engage your students in environmental learning.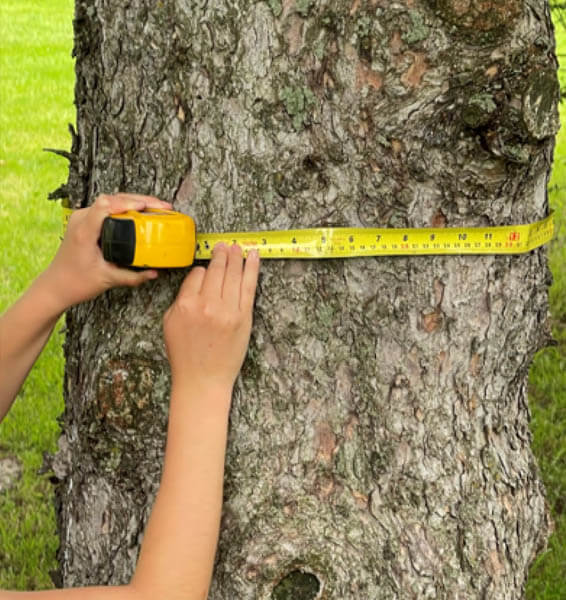 Earth Rangers Connections: This project can help children appreciate the different characteristics and biodiversity of trees in their local area. Spending time in close and mindful observation of trees outdoors, they may start to see trees in a new light and the ways that trees are connected to other living things—including us!

Curriculum Connections: Standard vs non-standard units of measurement; selecting and using materials to carry out explorations; estimating measurements; observing and describing; appreciating the importance of accuracy.
Start it up
1: Pick a Tree to Start (and Several More)
The biggest tree in the schoolyard
Tree(s) at a nearby wooded area or park
Trees of varying sizes
Trees of varying species
2: Pick Measurement Tools
Standard metric measuring tapes (soft)
Masking tape and felt-tip markers for writing numbers
Connecting links (e.g. chain links)
Paper clips, connected together
3: Pick a Characteristic
Number of limbs
Number of leaves on a branch
Trunk circumference
4: PICK LEARNING OUTCOME(S) FOR ASSESSMENT
Students are able to describe tree characteristics using non-standard tools and units of measurement.
Students are able to record observations.
Students are able to adapt tools and methods to solve problems.
Students are able to compare and contrast standard and non-standard measurement tools.
Students are able to justify the use of and preference for a measurement tool.
Students are able to compare and contrast the size of different trees.
Students are able to identify that there are different ways to age a tree.
Set it up
Adapted from Kracl, C., & Harshbarger, D. (2017) and McLennan (2018).
Inspired by the "Beautiful Tree Project" from kindergarten teacher Deanna Pecaski McLennan in Ontario, Canada, this is a chance for students to explore measurement in nature. Give students time to observe, sketch, and wonder about the tree. Give them different tools to measure the tree trunk. Make sure there is time to try different approaches.
5: PICK A QUESTION(S)
How tall and wide do you think the tree is?
How many limbs do you estimate are on the tree?
How many leaves should you include in a drawing of a tree branch?
Do you think a drawing helps people appreciate how large and beautiful a tree is?
Why do you think you need to start at the very end of the [insert measurement tool here] rather than the middle of it?
How tightly do you need to wrap the measurement tool around the tree trunk?
What will you do if the measurement tool is not long enough to wrap around the tree trunk?
What was the most important tool you used? Why?
Why don't all the numbers match when you measure the same tree (e.g. the number of links vs numbers marked on a measuring tape vs standard measuring tape)?
How could you measure to see if this tree is bigger (and older) than another tree of the same kind?
Why do you think some trees grow bigger than other trees?
6: PICK AN ASSESSMENT TOOL
Use one of our handy Early Elementary Science Skills worksheets or create one of your own!
Sketches and drawings
Hand-drawn maps showing tree locations
Checklists to compare tree sizes (e.g. bigger or smaller than the first tree measured)
Keep it up
7: ADD COMMUNITY
Invite children to measure trees at home with family and/or friends.
Invite a local arborist to answer questions and to demonstrate some of the tools and resources they use in their everyday job. Ask them to point out any problems that trees might face in the schoolyard (e.g. mowers cutting too close to trees, need for watering).
Invite an Elder to share traditional knowledge and practices (e.g. tapping maple trees for syrup).
8: ADD THE ANIMAL COMMUNITY
Look for critters who live in and among trees.
9: ADD EXCITEMENT
10: ADD AN EARTH RANGERS MISSION FOR HOME
References