In this activity, storytelling helps spur Eco-Action by showing students that it is possible to make a difference. After identifying what is needed to drive change and the skills they have that can help, the students will begin to contribute to positive change by sharing messages of hope with others.
An Earth Rangers research study about Eco-Anxiety in kids and their parents identified 5 E's to drive eco-action: empathy, education, environmental stewardship, excitement, and empowerment. Sharing stories of change is one way of applying these 5 E's.
This classroom activity offers some suggestions of stories of change as well as how to effectively use these stories to encourage children to recognize their own agency.
Using insights from our research, Earth Rangers has created the online Eco-Anxiety to Eco-Action Micro-credential to help educators who would like to develop a deeper understanding of eco-anxiety and tools to empower students. Click here for more information.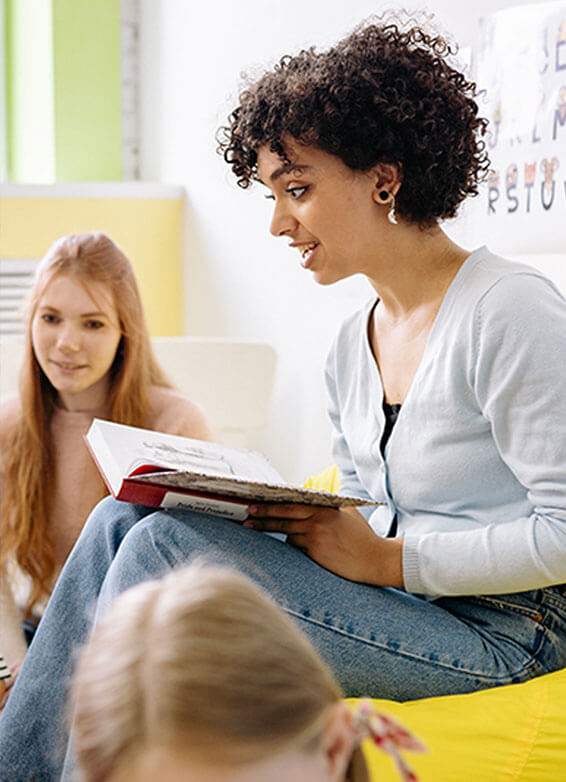 Grade level: K-3, 4-6
Learning Objective:
– Examine examples of successful eco-action
– Recognize their ability to undertake actions leading to positive change
During this activity, students will:
– Hear/read stories of eco-action
– Identify what made these projects successful
– Reflect on the skills they personally have to contribute to change
– Share messages of hope
Before Beginning
Select one, or several stories of positive change. In the resource section below, you will find suggestions of books, videos, and community members.
Decide if the class is going to hear/read the same story or if smaller groups are going to hear/read different stories.
Decide how to share the stories. This could take several different forms depending on the format of the story and the grade level, for instance, individual reading, watching a video in pairs or small groups, or listening to a story teller as a full class.
Instructions
Ask students to think about what is needed to successfully complete an environmental action project. Brainstorm ideas, for example, in the form of a think pair share or a collective Mind Map on the board.
Explain that you are going to be hearing about stories of change. Explain what you would like the students to pay attention to as they hear the story, for example, the 5 W's and 1 H (who/what/when/where/why/how).
Introduce the story or stories and share it/them with the students.
Have the students share what the story they heard was about as a class or in small groups (i.e. jigsaw if the students heard different stories).
Discussion Questions
Next, have the students discuss some or all of the questions below:
About the story:
What do you think about this person/these people and their environmental action project?
How did they decide what to do?
Why was this action project successful?
What skills did they need to be successful?
If the students heard different stories, they could be asked to find common points about the success of the projects and the skills the people in the stories needed to be successful.
Going further:
How could we make a difference in our community?
Which skills do you personally have that could make a difference?
Why do you think it is important to share examples of successful environmental action projects?
Why is it important for people to feel hopeful?
Next Steps
Create a way for the students to share their messages of hope, for example with a "Stories of Change" event.
To prepare for this event:
Students (in groups or individually) select a real-life story of a successful environmental action project
Students tell the story through drawings, words or a skit
Students can create a poster, slideshows or videos
Select a space to hold the event (school library, gym, or your classroom) and invite other classes to come to hear stories of change.
During the event, the students share the stories and answer questions. This allows students to convey a message of hope and raise awareness among their peers that it is possible to make a difference.
Suggested Resources
To help you get started, here are some potential sources for stories. One thing that is important to keep in mind is that the stories we share impact how our students view their role in climate action and who they see as experts in the field. The identities of the voices we center, such as their geographical region, gender, and socio-economic status, matter.
Books
Pedal Power: How One Community Became the Bicycle Capital of the World
by Allan Drummond (2017, Farrar Straus Giroux), Ages 4-8
This book tells the story of how Maartje Rutten and her friends contributed to making Amsterdam the bike-friendly city it is today.
One Plastic Bag: Isatou Ceesay and the Recycling Women of the Gambia
by Miranda Paul and illustrated by Elizabeth Zunon (2015, Millbrook Press), Ages 5-9
This books tells the story of Isatou Cessayan and the initiative she developed in the Gambia to recycle plastic bags.
The Boy Who Harnessed the Wind
by William Kamkwamba and Bryan Mealer and illustrated by Anna Hymas (2012, Dial Picture book), Ages 6-8
This book tells the story of William Kamkwamba and how he was able to create a windmill to pump water in his village in Malawi which was suffering from a drought.
Energy Island: How One Community Harnessed the Wind and Changed their World
by Allan Drummond (2011, Frances Foster Books), Ages 6-10
This book tells the story of how the residents of the Danish island of Samsø decided to move towards wind power.
Climate Action, What Happened and What We Can Do
by Seymour Simon (2021, Harper Publishing), Ages 6-10
All throughout this book, different children activists are highlighted with brief descriptions of what they have done. It is a good starting point to research their projects in further depth. 10
Seeds of Change: Planting the Path to Peace
by Jen Cullerton Johnson and illustrated by Sonia Lynn Sadler (2013, Lee & Low), Ages 6-11
This book tells the story of the first African women to win the Nobel Peace prize, Wangari Muta Maatha and how she contributed to environmental change in Kenya.
Xiuhtezcatl Martinez, Protecting the Environment and Indigenous Rights
by Linda Barghoorn (2017, Crabtree Publishing Compnay) Ages, 7-10
This book about Xiuhtezcatl Martinez, an American of Aztec decent and his dedication to saving the planet. He is a third generation co-founder of the environmental organization his mother started called Earth Guardians.
Old Enough to Save the Planet
by Loll Kirby and illustrated by Adelina Lirius (2020, Magic Cat Publishing), Ages 8-12
In this book, the stories of 12 young environmental activists from around the world and the projects they are dong to make a difference are told.
Earth Heroes: Twenty Inspiring Stories of People Saving Our World
by Lily Dyu and Amy Blackwell (2019, NOSY), Ages 10-13
This book looks at the stories of 20 young people working to save the planet.
Videos
Community Members
Lessons from Earth and Beyond: A website which shares Storytelling, Art & ​Indigenous Knowledge
Indigenous elders
Students from your school's Eco-Club
Members of local environmental organizations